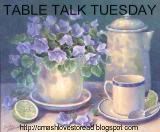 It is time again for Table Talk Tuesday! Welcome to TABLE TALK TUESDAY hosted by Cheryl at CMash Loves to Read. I missed last week because I had it in my mind that it was Table Talk Thursday - very, very close! OK, so this week is Book Blogger Appreciation Week and that is very exciting, so my conversation tidbits will be about BBAW. But first let me answer CMash's questions.
CMash's conversation tidbits:
1. Do you have any special plans for this week?
I stay super busy most weeks, but this week I am trying to set aside some time to read as many BBAW related posts as possible. This is coming on the heels of what was probably a very successful Blogfest (which I did not sign up for because I am slow!)
2. It's that time of year, do you get a flu shot?
Absolutely - even with the flu shot last year I was one of the lucky Floridians who managed to get the Swine Flu - working in a library, I think we are offered every possible bug every day!
3. What are you reading this week?
I am reading A Call from Jersey by P.F. Kluge - which I love so far.
Now here are my thoughts and questions:
1. I am in love with BlogFest and BBAW - I mean seriously book bloggers are the greatest people. How have you participated? I did an interview with one person for each of my blogs - here are the links: Sophisticated Dorkiness and Age 30+ - A Lifetime of Books
Both are phenomenal bloggers so I hope you will check out the interviews and visit their blogs.
2. Tell me how you found out about BlogFest - did you participate? Do you know any bloggers in real life? How did you meet? I would love to meet with real people just once!
3. Do you ever participate in the Read-a-thons? If yes, how many hours of 24 do you actually read? Do you significant others understand this insanity? I have not participated but I would love to, so I am thinking about Dewey's Readathon.
Hope you have a wonderful week! I've enjoyed my cup and cake with you this morning!