Welcome to another Sunday Sidelines! I have so much to talk about today. It has been an exciting week and another exciting week will be coming up!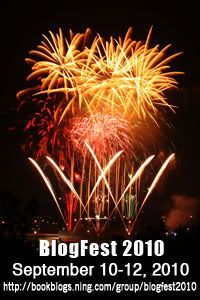 I hope that you will take some time today to visit the blogs who are participating in BlogFest 2010! Over 200 bloggers are offering giveaways on top of the opportunity to visit their wonderful reading blogs. The host, A Journey of Books, has created a tracking site where you can keep up with which ones you have visited. It all ends at 11:59 pm tonight, so start visiting!


Another fun thing I do every week is Unconscious Mutterings, hosted by Luna Nina! It is so much fun to see answer these free association suggestions and go back and see how others have answered. Participation has been down a bit so I hope you will go play her game so that she continues to do this!

Singapore :: Nights
blah blah blah :: Seinfeld
Stall :: bathroom
Bowls :: 300
Entrance :: Exam
Antique :: dresser
Elizabeth :: Bennett
Hook :: line and sinker
Width :: and depth
Photo journalism :: Viet Nam War
Next week starts another big event in the world of blogging.
Book Blogger Appreciation Week
will be full of wonderful surprises - blogs with awards, interviews with other bloggers - so I hope you will stop by for a visit throughout the week. On Tuesday, I will be posting my interview with Heather J. from
Age 30+...A Lifetime of Books.
It is oh so exciting!