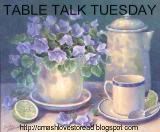 Welcome to the first Table Talk Tuesday meme, hosted by CMash Loves to Read. Hop on over to her blog to participate. The goal is to share a cup of coffee or tea and share three tidbits or ask three questions - either things about yourself or things you want to know.
My Three Things:
1. Do you prefer coffee or tea? I love Starbucks coffee on ice. Not a huge fan of hot coffee. I love, love sweet (Southern sweet) tea. Only drink hot tea when I am sick.
2. I love animals. We have four beautiful chihuahuas at our house. Do you have any pets? Or even a pet preference? I used to have cats but somehow I have become allergic, so I am not strictly a dog person.
3. I read The Hunger Games, Catching Fire, and Mockingjay all in this last week - a little late to the games, so to speak!! Have you read them? Do you plan to read them?
I hope you have a great week and enjoy this little coffee break!